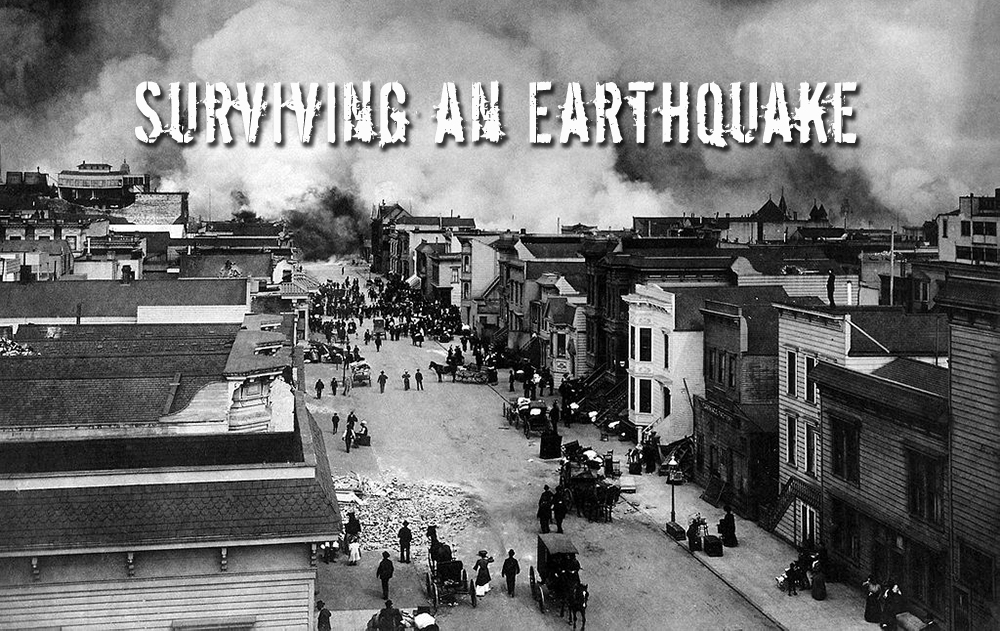 Events sometimes happen unexpectantly without warning.
The ground begins to shake uncontrollably, rippling like waves approaching the shore. Gapping caverns and tears open as earth is separated swallowing homes, the loud cracking and popping sounds as buildings begin to break apart and crumble, cars toppling into holes in the sinking ground and frightened, panicked people running to nowhere in particular in hopes of escape.
This is the big one a 8.5 earthquake, entire sections of land fall into the sea near the coast, building foundations crumble leaving mounds of rubble, bridges collapse falling into deep waters taking hapless motorists to an agonizing watery grave.
The shaking goes on for only minutes leaving in its wake catastrophic destruction, skyscrapers are now mounds of concrete and steel, fires erupt from broken gas mains, geysers of water soar 50-feet into the air from water mains ripped apart, sewerage flows into the streets causing health hazards and screams of those trapped can be heard and the silence of death.
In another hour the aftershocks begin and building that hadn't quite fallen do so now crushing bodies beneath.
This is a horrible reality recently played out in the third world region of Nepal where thousands lost their lives; imagine if it were San Francisco, Los Angeles or San Diego.
It's a placid, sleepy Saturday morning your enjoying your morning coffee the wife and kids are still asleep, you look up at the clock it's just past 6a and the sun is starting to brighten on the horizon; then it happens.
The glasses in the cabinet begin to chatter, cabinet doors bang open and shut the coffee cup on the table dancing to the edge, crashing to the floor and you are thrown violently from your kitchen chair to the floor. You hear the screaming of your 11 year old daughter who awoke terrified in her bed not knowing what was happening.
You jump up and run to the kids rooms to pull them from their beds as your wife gets the baby up and begins to dress.
You open the garage door as the rumbling recedes, you tell the kids to get dressed as quickly as possible and get themselves to the SUV.
You were prepared this time and begin to load your ToGo bags, food and water into the rear storage area as the family gets in the vehicle. You pull out into the street where panicked neighbors are in their pajamas outside frightened and not quite comprehending the next aftershock would be coming in minutes.
Your preparation from months before is now your lifeline and that of your family; you have practiced this procedure, your route of travel and near and far destinations that will take you by secondary roads to areas of safety where you took your family on weekend camping excursions learning to set up your tent, prepare your sleeping facilities, how to set up a cooking station and sanitary facilities.
You and your wife knew its true purpose was to survive in a safe location when just such an event occurred and today is the day.
For several months you took the kids camping, made it a game, went totally outfitted with food, water and gear just like today, had a vehicle capable of carrying the entire family, 400 pounds of supplies and the ability to drive 500 miles without refueling. You practiced your routine making certain you never allowed the SUV to reach below ¾ of a tank without refueling, were able to load all your supplies within a 15-minute window and by the time you were done all members of the family were assembled in their seats and you were on your way.
This routine could save your lives today before all the major panic sets in and the masses begin their exodus snarling roadways and creating gridlock for dozens of miles.
You knew that you have just an hour to get going and between 30-45 minutes of driving time on secondary routes averaging 40-50 miles per hour and an alternate route if the first route was compromised.
Your first area of safety is 25 miles away from your home. It's a state park where you took the family the first time to teach them about camping. There is a beautiful fresh water lake, lots of trees and campsites; you learned to choose the most remote as far from the roadway as possible usually being the last area others would flee to.
The second location was 50 miles away on Bureau of Land Management forest in the foothills with tens of thousands of acres of forested lands with abundant streams and small clear meadows where you took the family the third camping trip down a rough dirt road you scouted out using Google Earth Pro and MapQuest so you had the route mapped and knew exactly where you were going.
The kids loved this area where they could explore without fear of other people except an occasional hiker.
The farthest location was 120 miles away in a mountainous state game land and this one you had scouted out also and took the family on a drive staying this time in a hotel just off your evacuation route. The hotel had a pool and restaurant and your wife and the kids stayed and swam as you went to explore.
You found the route you expected in much better shape than you expected. It led nearly 6 miles back to an old boy scout camp, a small lake full of fish and plenty of great campsites and everything you would require to sustain yourselves for a month long stay.
You were prepared; you're now headed to your destination as you listen to the news on the radio and know you've left the worst of the traffic and destruction behind you nearly 20 miles back.
You may be able to go home tomorrow but maybe not. The kids are no longer afraid just anticipating another camping trip for the weekend and you feel relief that you got them to safety.