Food freedom – now that's a loaded statement. Is there such a thing? How many of you go to the store every week to get produce and meat? I would venture to guess almost all of us. Over the last several years, a substantial amount of our wealth has gone into purchasing food staples like meat, eggs and dairy. Even though we were "technically" making our way out of the recession of 2008, prices still continued to steadily rise. I was even more frustrated when country of origin labels were removed and serious health-related superbugs were present in packaged meat.
For years, I have placed a lot of focuson finding ways to be more sustainable. I was tired of living a life in a dependency-driven system and wanted to make more sustainable choices. Admittedly, I still go to the grocery store, but I have taken significant strides to break away from it. I no longer purchase meat, eggs and most produce. I either raise my own food sources or find them locally. This has saved us from the ever volatile price increases of grocery stores that many are dealing with.
I also made some drastic changes around the house. While many believe the first steps toward food freedom are the most difficult to take, I found them to be the most rewarding and only encouraged me to be bolder in my pursuits. In a long-term emergency scenario, I knew that I needed the land I have to work for me. Therefore, I started raising my own food sources. The following are four of the easiest steps to take to become more sustainable in raising one's own food and can be done in the convenience of a backyard.
Four Ways to Start Achieving Food Freedom
Anyone Can Do It
With these four steps, you are essentially creating your own microfarm. If you have a yard, then you can take these steps. In fact, Jules Dervaes proved years ago that you can raise your own food sources on 1/5th of an acre. He says that "growing your own food is recession proof.  You don't have to worry about the prices."
While I live on acreage, the amount of land I use for these sustainable pursuits are very small. Moreover, I found the steps listed above to be the most rewarding and cost efficient ways to get started. Once your endeavors take off, consider how much additional food you will have. This could be great additional income sources or bartering tools that could be used.
Farms. Food. Freedom. It's That Simple, Folks
To conclude, I ask again, is there such a thing as food freedom? The answer is yes; but you must be ready to work for it. The four steps outlined above are the most efficient course of action towards sustainability and if you have a small plot of land, you can make this happen.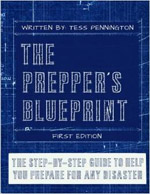 Tess Pennington is the author of The Prepper's Blueprint, a comprehensive guide that uses real-life scenarios to help you prepare for any disaster. Because a crisis rarely stops with a triggering event the aftermath can spiral, having the capacity to cripple our normal ways of life. The well-rounded, multi-layered approach outlined in the Blueprint helps you make sense of a wide array of preparedness concepts through easily digestible action items and supply lists. 
Tess is also the author of the highly rated Prepper's Cookbook, which helps you to create a plan for stocking, organizing and maintaining a proper emergency food supply and includes over 300 recipes for nutritious, delicious, life-saving meals. 
Visit her web site at ReadyNutrition.com for an extensive compilation of free information on preparedness, homesteading, and healthy living.
This information has been made available by Ready Nutrition